Bomanbridge Media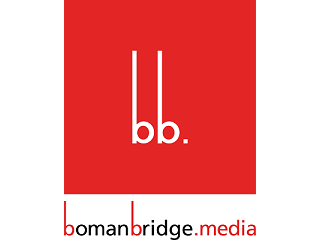 A leading Singapore-based distribution agency and production company, Bomanbridge Media exclusively distributes renowned programming from around the world. The company's team has earned a stellar reputation in the region as the go-to company for profitable programming results. Its diverse catalogue currently holds over 6,000 hours of top quality programming, consisting of formats, lifestyle, specialist factual, factual entertainment, drama, kids and educational content. Offering brand strategy, programme distribution and format development, Bomanbridge is an effective programming partner.
Address
Bomanbridge Media Pte Ltd
8 Smith Street #02-01
Singapore 058922
T: +65 6224 4211
W: www.bomanbridge.tv
Who's who...
Sonia Fleck
Founder & CEO
E: sonia@bomanbridge.tv
Aegena Tay
Director of Sales and Acquisitions, Greater China
E: aegena@bomanbridge.tv

Alicia Lee
Acquisition Manager
E: alicia@bomanbridge.tv

Gleyce Soares
Content Sales Manager
E: gleyce@bomanbridge.tv

Josephine Lim
Content Sales Executive
E: josephine@bomanbridge.tv

Liyana Juhari
Marketing and Sales Support
E: liyana@bomanbridge.tv
Genres
Formats, lifestyle, specialist factual, factual entertainment, drama, kids and educational content


Production
We are producing new adventure series, Into The Heart of China: Walking The Yangtze (3x60 mins), with extreme British adventurer, Ash Dykes. Together with Mandarin Films, we will witness the potential first world record breaking event with Ash walking the entire length of the Yangtze over a period of one year. For formats, Bomanbridge Media successfully saw the finale of Sing My Song Season 2 air in Vietnam on VTV3 in May 2018 as the #2 rated show for the talent competition genre. Season 3 airs in 2019.


Rights
Generally all Asian rights and/or worldwide rights, depending on titles. Please contact our distribution directors for further information.


HD/4K
100% HD as well as a large percentage in 4K.


Trends in 2018/Outlook for 2019
2018: "We saw the impact of local programming take centre stage for all Asian individual markets. As we are a distributor, the next step for local content intended for international sales is to build a consistent chain of commercialisation globally – Monetise first locally and remonetise through formats. On the international programming landscape, there has been a stronger return to core genres – wildlife and science/ technology, studio-based formats, animation, as well as digital short-form content."
2019: "We see great locally owned IP coming through lifestyles series and unique formats with a fresh new take from Asia."


Asia focus in 2019
"We focus on small and large markets, understand how they are evolving in their use of content. India is important this year for us; Myanmar and Mongolia have proven smaller in scale but satisfying. For SEA, we are ready to deficit finance Asian projects with international resonance. Our projects, Walking The Yangtze and Designing Paradise, are both good examples of Asian content with global audience opportunity. We are also big believers in eSports, and following the launch of Gamerz, we have multiple deals in Asia. eSports is a wealth of opportunity, and being early days, it makes that a pioneering area for media content, beyond just the gaming dynamic."


Top shows are…
Smighties
Already 28 million views on Youtube! Every day is super when you're a Smighty! With over 130 of them, that's a lot of teamwork, friendship and fun! The chosen 'Super Six' go on fantastical and funny adventures in their imaginative world, which has five mystical and enchanting regions. Episodes/length: 39x7 mins

The Wild Canadian Year
The Wild Canadian Year, produced for CBC, is a new beautiful four-part legacy series that views Canada's extraordinary wildlife through the lens of its four distinct seasons. The Wild Canadian Year showcases the most amazing and rare natural wonders of Canada. 4K. Episodes/length: 4x60 mins

Paul Goes To Hollywood
Paul Hollywood indulges in three of his greatest passions – bikes, movies & baking – and heads off on an epic trans-continental adventure riding a customised Harley Davidson. Peppered with celebrities, comedians and critics, this part-travelogue, part-pilgrimage series explores the connection between films and food. Commissioned by UKTV Good Food. Episodes/length: 5x60 mins