France 24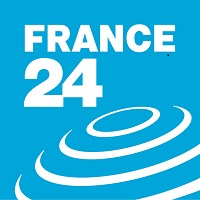 France 24, the international news channel, broadcasts 24/7 to 355 million homes around the world (2017) in French, Arabic, English and Spanish. From its newsroom in Paris, France 24 gives a different perspective on global affairs. France 24 provides rich programming: live news, debates, in-depth reports and interviews on a variety of themes (business, culture, politics, sport, technology...). In its four languages, France 24 is available on a multitude of platforms: cable, satellite, IPTV, DTT, OTT, smartphones, tablets, connected TVs and YouTube.
Who's who
Eric Cremer
Vice President Distribution
T: +33 (0)1 84 22 83 69
E: [email protected]

Brice Bertrand
Distribution Director Asia Pacific and North America
T: +33 (0)1 84 22 84 21
E: [email protected]
Content
As an international news channel, the vast majority of content broadcast is live, exclusive to the channel, first run and internally produced. Magazine programmes are multi-broadcast throughout the week in order to capture prime times around the world. Programmes feature news from around the world.
Target audience
Men and women, in particular opinion leaders and decision makers who are interested in discovering the world and having an impact on it.
Local Production
France 24 has some 20 correspondent bureaux across the region.
Television
All of France 24's channels are broadcast 24 hours a day.
In Asia Pacific in French (SD) and English (SD and HD).
In the Middle East in English (SD and HD), French (HD) and Arabic (SD and HD), depending on the satellite.
Channel distribution in Asia
France 24 is present in nearly every country in Asia, mainly through satellite, cable and IPTV. In Asia Pacific, France 24 reaches more than 75 million homes mainly via pay TV operators (signal available on Asiasat-5).
In the Middle East, France 24 reaches more than 58 million homes via Arabsat Badr-4, Nilesat, Hot Bird and pay TV operators.
France 24 is available in more than 365,000 hotel rooms across Asia.
Mobile/wireless/broadband/online
Most of the programmes are available through catch-up TV. We also offer a large selection of programmes on VOD services.
Affiliate marketing
Affiliate Sales Contacts
India – Catvision Limited
Sanjay Grover DGM-Channel Marketing
T: +91 98111 07371
E: [email protected]

Japan – Orbi media inc.
Ikuko Yamashita CEO
T: +81 90 7035 8008
E: [email protected]

South Korea – Panda media
Jiyoung Yang
General Manager
T: +82 10 4747 9782
E: [email protected]

Taiwan – Taipei postproduction corp.
Diane Chou Channel Representative
T: +886 939 221 709
E: [email protected]

Thailand and the Philippines – MZ media
Mikael Zeggag
Managing Director
T: +66 878 5105 37
E: [email protected]
Advertising/sponsorship
France 24 is committed to limiting advertising time to no more than six minutes per hour.
Advertising Sales
France Médias Monde
Isabelle Ribot Roth
Sales Coordinator - Marketing
T: +33 (0)1 84 22 71 10
E: [email protected]
Address
France Médias Monde
80, rue Camille Desmoulins
92130 Issy-les-Moulineaux
France
Contact
T: +33 (0)1 84 22 84 84
W: https://www.france24.com/
Facebook: @france24.english; @france24; @france24.espanol; @france24.arabic
Twitter: @france24; @france24_en; @france24_fr; @france24_es
Instagram: @france24; @france24_en; @france24_es; @france24_ar