"We're creating a new breed of entertainment." "My Bubble Tea" director talks about blending Asian cultures in new Viu romcom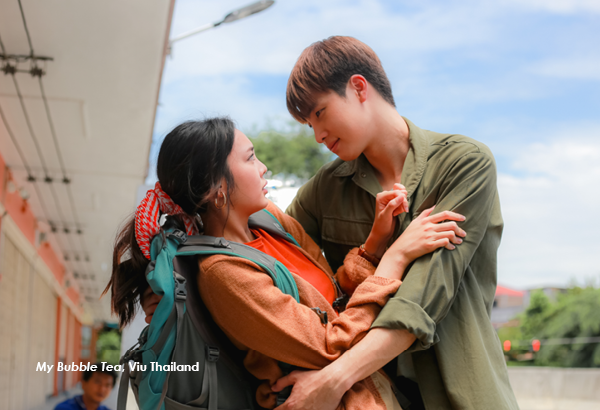 Logic and magic align on the Bang Bua Thong Productions' set in Bangkok for Viu Thailand's new original series, My Bubble Tea. "We want to make the series a believable fantasy for audiences," says director Thammarong (Sand) Sermrittirong (The Gifted).
Blending Korean romance with Thai humour, the 13-part love triangle builds upon Viu's strong Korean content presence in Asia's streaming environment. "My Bubble Tea is 40% Korean romance and 60% Thai humour," says producer Pramewith (Pippo) Sreechatthiwong, chief executive of Bearcave Studio and Fictionlog.
"We're creating a new breed of entertainment," Sermrittirong adds.
The series is based on a novel, Make Me XXX by Jenny D Renger from Thai user-generated storytelling platform Fictionlog, about a woman who falls for her boss and concocts a supernatural brew to win his love. In a bitter twist, a man she despises accidentally drinks the tea.
The core idea is accidental love. My Bubble Tea replaces the novel's love potion with bubble tea, because it is a relatable and trendy drink with local youngsters, Sermrittirong says. Different bubble tea concoctions produce different magical benefits.
The series stars Korean 2PM boy band member, Nichkhun Horvejkul; Thai gen Z and millennial idol, "Mean" Phiravich Attachitsataporn; and up and coming actress Proy Manasaporn Chanchalerm (Brother of the Year). The three command a combined social media fanbase of almost 15 million followers.
My Bubble Tea premieres on the PCCW Media Group-owned streaming platform in early 2020 across the region. The series will also air on a free-TV network in Thailand; broadcast details have not been released.
Sermrittirong says his biggest challenge is not to go overboard with the magic. "There has to be a balance between logic and magic throughout the production," he says.
Viu Thailand's country manager, Oh Silamanonda, says the show capitalises on the popularity of Korean entertainment, and simultaneously blending two Asian cultures.
Viu says the show was developed based on audience insights. In the six months of 30 June 2019, Viu consumers watched 30 billion video minutes in 2.9 billion video views. Viu says it has more than 36 million monthly active viewers (Aug 2019).
My Bubble Tea is Viu's second Thai original series after family sitcom, 4Freaks4Fam (aka Hoh Family), released in Feb this year. The show is part of Viu's increasingly ambitious originals slate, including a second season of The Bridge out of Malaysia, and an Indonesia version of Warner Bros' scripted series, Pretty Little Liars.