PUBLICATIONS
The ContentAsia eNewsletter
The latest issue of our fortnightly newsletter.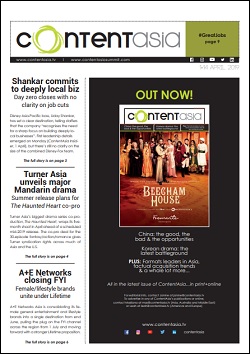 1-14 April 2019 issue includes:
Shankar commits to deeply local biz; Asia's Day Zero closes with no clarity on job cuts
Disney Asia-Pacific boss, Uday Shankar, has set a clear destination, telling staffers that the company "recognises the need for a sharp focus on building deeply local businesses". First leadership details emerged on Monday (ContentAsia Insider, 1 April), but there's still no clarity on the size of the new team.
Turner Asia unveils major Mandarin drama, summer release plans for The Haunted Heart co-pro
Turner Asia's biggest drama series co-production, The Haunted Heart, wraps its five-month shoot in April ahead of a scheduled mid-2019 release. The co-pro deal for the 30-episode fantasy/action/romance gives Turner syndication rights across much of Asia and the U.S.
A+E Networks closing FYI, female/lifestyle brands merge into Lifetime
A+E Networks Asia is consolidating its female general entertainment and lifestyle brands into a single destination from end June, pulling the plug on the FYI channel across the region from 1 July and moving forward with a stronger Lifetime proposition.
PLUS MORE...

Previous issues: