PUBLICATIONS
The ContentAsia eNewsletter
The latest issue of our fortnightly newsletter.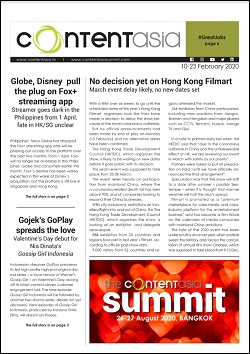 10-23 Feb 2020 eNewsletter includes:
Globe, Disney pull the plug on Fox+ streaming app, streamer goes dark in the Philippines from 1 April, fate in HK/SG unclear
Philippines' telco Globe has dropped the Fox+ streaming app and will be phasing out access to the platform over the next two months. From 1 April, Fox+ will no longer be available in the Philippines, Globe told consumers earlier this month. In its "important advisory" message, Globe assured customers that they could "still stream movies, shows, and live sports through our other partner apps", such as Netflix and Amazon Prime Video.

No decision yet on Hong Kong Filmart, March event delay likely, no new dates set
With a little over six weeks to go until the scheduled dates of this year's Hong Kong Filmart, organisers appear to have decided to delay the show because of the novel coronavirus outbreak – but they're keeping it quiet, most likely until new dates are set. No official announcements had been made by the end of the business day in Hong Kong today (Monday, 10 February). This year's event was supposed to take place from 25-28 March.

Valentine's Day debut for GoPlay Original, Nia Dinata's "Gossip Girl Indonesia" kicks off premium play
Indonesian streamer GoPlay premieres its first high-profile high-end original drama series – a local version of Warner's "Gossip Girl" – on Valentine's Day, kicking off its latest content-driven customer engagement bid. The nine-episode "Gossip Girl Indonesia" will be followed by another two drama series; details not yet disclosed. New episodes of "Gossip Girl Indonesia", produced by Kalyana Shira Films, will stream on Fridays.

PLUS MORE...

Previous issues: