PUBLICATIONS
The ContentAsia eNewsletter
The latest issue of our fortnightly newsletter.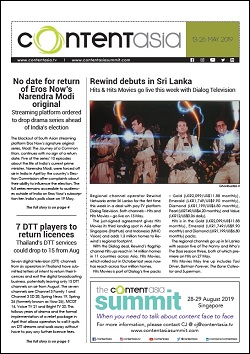 13-26 May 2019 issue includes:
Blackout continues for Narendra Modi original; Eros Now ordered to drop drama during India's election
The blackout of South Asian streaming platform Eros Now's signature original series, Modi: The Journey of a Common Man, continues into its third week with no sign yet of a possible return date. Five of the series' 10 episodes about the life of India's current prime minister, Narendra Modi, were forced off air in India in April by the country's Election Commission after comments about their ability to influence the election. The full series remains accessible to audiences outside of India on Eros Now's subscription tier. India's polls close on 19 May.

Rewind debuts in Sri Lanka; Hits & Hits Movies go live this week in linear carriage deals with Dialog Television
Regional channel operator Rewind Networks enter Sri Lanka for the first time this week in a deal with pay-TV platform Dialog Television. Both channels – Hits and Hits Movies – go live on 15 May.

7 DTT players to return licences; Thailand's DTT services could drop to 15 from Aug
Seven digital television (DTT) channels from six operators in Thailand have told regulators that they plan to return their licences and exit the business, potentially leaving only 15 (from the remaining 22) channels on air from August.

PLUS MORE...

Previous issues: