PUBLICATIONS
The ContentAsia eNewsletter
The latest issue of our fortnightly newsletter.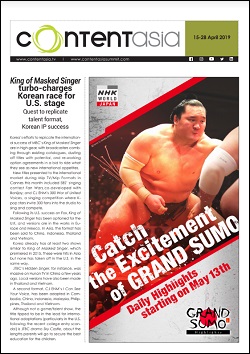 15-28 April 2019 issue includes:
King of Masked Singer turbo-charges Korea's race for U.S. stage; quest to replicate talent format, Korean IP success
Korea's efforts to replicate the international success of MBC's King of Masked Singer are in high-gear, with broadcasters combing through existing catalogues, dusting off titles with potential, and re-working option agreements in a bid to ride what they see as new international appetites.
iflix hot sauce for Anwar Ibrahim; Malaysian politician agrees to iflix original talk show
One of Malaysia's most prominent politicians, Dato Seri Anwar Ibrahim, has agreed to participate in iflix interview series – Hot Ones – in an original content coup for the Malaysia-based regional streamer.
Miss Fisher opens investigation in China; Aussie murder mystery adaption for Tencent Video
Production has begun in China on the Mandarin-language version of Every Cloud Productions' Miss Fisher Murder Mysteries series – the first Australian series to be re-versioned for China.

Previous issues: