PUBLICATIONS
The ContentAsia eNewsletter
The latest issue of our fortnightly newsletter.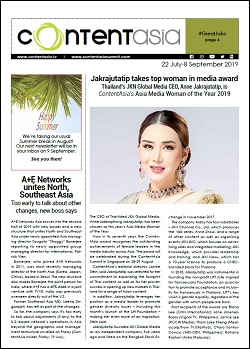 22 July-8 September 2019 issue includes:
Thailand's JKN Global Media CEO, Anne Jakrajutatip, is ContentAsia's Asia Media Woman of the Year 2019
The CEO of Thai-listed JKN Global Media, Anne Jakkraphong Jakrajutatip, has been chosen as this year's Asia Media Woman of the Year. Now in its seventh year, the ContentAsia award recognises the outstanding achievements of female leaders in the media industry across Asia. Jakrajutatip was selected for her commitment to expanding the footprint of Thai content outside Thailand as well as for her proven success in opening up new markets in Thailand for a range of Asian content. As importantly, Jakrajutatip leverages her position as a media leader to promote gender diversity issues. The award will be celebrated during the ContentAsia Summit in Singapore on 28-29 August.

A+E Networks unites North, Southeast Asia; too early to talk about other changes, new boss says
A+E Networks Asia moves into the second half of 2019 with new bosses and a new structure that unites North and Southeast Asia under newly appointed Asia managing director Saugato "Shoggy" Banerjee reporting to newly appointed group managing director for international, Patrick Vien.

Workpoint, Facebook debut new series; 19 August premiere for The Social Icon Thailand
Facebook's newest Asia series, The Social Icon Thailand, premieres on 19 August in a deal with local production powerhouse Workpoint. The Social Icon Thailand is a competition show that searches for the best video creators across a broad swathe of genres, including eating and product reviews, for Facebook.

PLUS MORE...

Previous issues: