PUBLICATIONS
The ContentAsia eNewsletter
The latest issue of our fortnightly newsletter.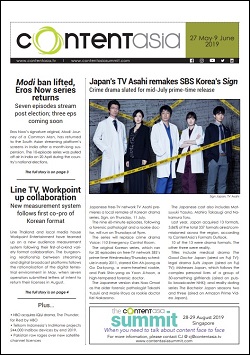 27 May-9 June 2019 issue includes:
Japan's TV Asahi remakes SBS Korea's Sign; crime drama slated for mid-July release
Japanese free-TV network TV Asahi premieres a local remake of Korean drama series, Sign, on Thursday, 11 July. The nine 60-minute episodes, about a forensic pathologist and a rookie doctor, will run on Thursdays at 9pm, and is the first format TV Asahi has acquired in at least two years. The TV Asahi production builds upon Japan's strong scripted format acquisitions in 2018, when 10 of the 13 formats acquired by Japanese broadcasters were drama

Line TV, Workpoint up collaboration; new measurement follows first co-pro of Korean format
Messaging/streaming platform Line Thailand and local producer/broadcaster Workpoint Entertainment have teamed up on an audience measurement system that combines viewership of online and offline platforms. The new collaboration follows a content-creation partnership that puts the Thai version of Korean format, Infinite Challenge, on both platforms within an hour of each other.

Modi series ban lifted, show returns; Eros Now resumes 10-part original post election
Eros Now's signature original, Modi: Journey of a Common Man, has returned to the South Asian streaming platform's screens in India after a break of a month. The 10-episode series, which premiered globally on 3 April about a week before the seven phases of India's national election started, was suspended in India on 20 April.

Previous issues: