PUBLICATIONS
The ContentAsia eNewsletter
The latest issue of our fortnightly newsletter.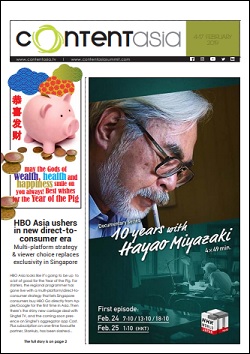 4-17 February 2019 issue includes:
HBO Asia ushers in new Singapore era; multi-platform, direct-to-consumer strategy & choice replaces StarHub exclusivity
HBO Asia looks like it's going to be up to a lot of good for the Year of the Pig. For starters, the regional programmer has gone live with a multi-platform/direct-to-consumer strategy that lets Singapore consumers buy HBO Go directly from Apple/Google for the first time in Asia. Then there's the shiny new carriage deal with Singtel TV, and the coming-soon presence on Singtel's aggregator app Cast. Plus subscription pricing on one-time favourite partner, StarHub, has been slashed, bringing it in line with the competition and possibly boosting take up.

Lunar New Year eve peace for VTVCab, Q.net
Vietnamese pay-TV platform VTVcab and channel distributor Qnet appear to have made peace, with a Lunar New Year eve agreement that puts six channels back on VTVcab and Viettel TV, with another bundle likely to follow by the end of March.

MasterChef Thailand returns to BBTV Channel 7; Heliconia drives multi-season cooking formats
Thai production house Heliconia H Group premieres the new season of big-brand cooking competition format, MasterChef Thailand, this month, with a second season of MasterChef Junior Thailand in the works for later this year.
PLUS MORE...

Previous issues: