PUBLICATIONS
The ContentAsia eNewsletter
The latest issue of our fortnightly newsletter.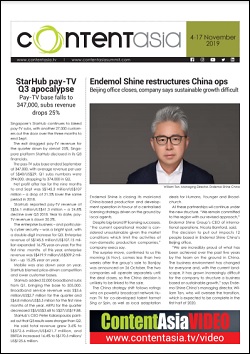 4-17 Nov 2019 eNewsletter includes:
Endemol Shine restructures China ops; Beijing office closes, company says sustainable growth difficult
Endemol Shine is closing its mainland China-based production and development operation in favour of a centralised licensing strategy driven on the ground by local agents. Despite big-brand IP licensing successes, "the current operational model is considered unsustainable given the market conditions which limit the activities of non-domestic production companies," company execs say.

iQiyi debuts premium app in Malaysia; partnership with Astro boosts Malaysian platform's footprint
Chinese streamer iQiyi launched its premium streaming app in Malaysia this morning (6 Nov), expanding the Chinese streamer's footprint beyond China and boosting partner Astro's global footprint. The app will carry three original productions from Astro, which will take the lead in marketing, customer acquisition and media sales.

StarHub's pay-TV Q3 apocalypse; pay-TV base falls to 347,000, subs revenue drops 25%
Singapore's StarHub continues to bleed pay-TV subs, with another 27,000 customers out the door over the three months to end Sept. The exit dragged pay-TV revenue for the quarter down by almost 25%, the platform disclosed in its Q3 financials.

PLUS MORE...

Previous issues: