PUBLICATIONS
The ContentAsia eNewsletter
The latest issue of our fortnightly newsletter.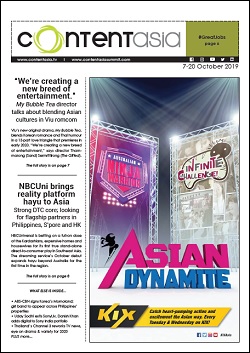 7-20 Oct 2019 issue includes:
"We're creating a new breed of entertainment." My Bubble Tea director talks about blending Asian cultures in new Viu romcom
Viu's new original drama, My Bubble Tea, blends Korean romance and Thai humour in a 13-part love triangle that premieres in early 2020. "We're creating a new breed of entertainment," says director Thammarong (Sand) Sermrittirong.

NBCUni brings hayu to Singapore, Hong Kong & Philippines; strong DTC core; also looking for at least one flagship partner in each, McDermott says
NBCUniversal is betting on a full-on dose of the Kardashians, expensive homes and housewives for its first true stand-alone direct-to-consumer (DTC) play in Southeast Asia. Expanding beyond Australia in the Asia-Pacific region for the first time, the ramped-up DTC initiative runs alongside a close watch on what NBCUni is doing with its regional linear channels in Asia.

ABS-CBN signs Korea's Momoland; girl band to appear across Philippines' properties
Philippines media company ABS-CBN has signed Korean girl group, Momoland, in a deal with Korea's MLD Entertainment. ABS-CBN will co-manage the group in the Philippines. The agreement was signed in Manila on Friday (4 Oct).

PLUS MORE...

Previous issues: