PUBLICATIONS
The ContentAsia eNewsletter
The latest issue of our fortnightly newsletter.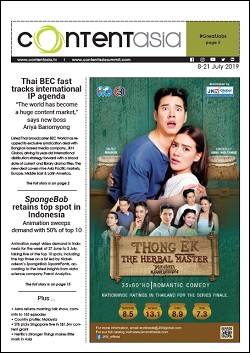 8-21 July 2019 issue includes:
Thailand's BEC fast tracks int'l agenda; global footprint expanded with new JKN distribution deal
Listed Thai broadcaster BEC World has re-upped its exclusive multi-country syndication deal with Bangkok-based media company, JKN Global Media, driving its year-old international distribution strategy forward with new and library drama titles such as period romcom Thong Ek – The Herbal Master and The Crown Princess. The new deal covers nine markets in Asia Pacific, as well as the whole of Europe, the Middle East and Latin America.

SpongeBob retains Indonesia top spot; but demand drops for hit Nickelodeon property
Animation swept video demand in Indonesia for the week of 27 June to 3 July, taking five of the top 10 spots, including the top three. Longtime Indonesian favourite, Nickelodeon's SpongeBob SquarePants, was the only title to generate more than 20 million demand expressions (DEx), putting it at number one for the week, albeit with lower demand than six months ago, according to the latest insights from data science company Parrot Analytics.

Stranger Things makes little mark in Asia; demand for Netflix series highest in Philippines and India
Audiences in other parts of the world may have gone nuts for Netflix's Stranger Things, but only two countries in Asia – the Philippines and India – came anywhere near enough demand to make the top 20 markets for the series, according to a new report from Parrot Analytics.

PLUS MORE...

Previous issues: