PUBLICATIONS
The ContentAsia magazine
The latest issue of our flagship print title.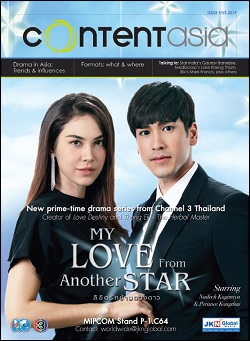 Issue Five 2019 includes:
DRAMA: Who spends what in Asia
More is being spent on drama series in Asia than ever, driven mostly by Netflix but also in Japan and India because of Amazon Prime Video. Across the region, local streamers and broadcasters have responded in a few ways, including pooling resources to swell budgets and drive up quality, and being a lot more innovative about tapping deeply local stories, traditions, culture and awareness. ContentAsia looks at production budgets in Asia.

STRATEGY: Another day, another drama
Fremantle has redirected its China formats business, switching from a production to a licensing model. At the same time, the company is putting major energy into ramping up original drama from Indonesia, beginning with The Sacred Riana: Bedtime Stories with local production house Wahana Kreator Nusantara.

ONLINE VIDEO: Who's ahead in Asia
Fifteen players – led by YouTube with revenues of more than US$4 billion – will dominate Asia-Pacific online video revenue in 2019, taking 70% or US$18.9 billion, of total online subscription/advertising revenue of US$27 billion, according to Media Partners Asia's (MPA) new Asia Pacific Online Video & Broadband Distribution 2020 report.

PLUS MORE...

Previous issues: