PUBLICATIONS
The ContentAsia magazine
The latest issue of our flagship print title.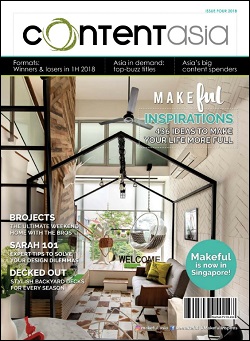 Issue Four 2018 includes:
Happy branding
Three new content marketing initiatives in Asia take very different routes to the same destination – branding in the guise of entertainment in a world where attention spans are shorter and consumer habits change faster than ever.
Formats: Winners & losers in 1H 2018
Thailand streaked past Vietnam as Asia's most vibrant formats market in the first half of this year, with great game in game shows and a strong grasp on reality. The biggest losers across the six months were China and Vietnam. The highlight was Viu's entry into big-budget scripted formats.
Asia in demand: top-buzz titles
Some Asian programming travels better than others, but almost all content these days is travelling further than it used to thanks to streaming platforms and greater opportunity for exposure, a healthier appetite for experimentation by programmers, who in turn are encouraged by more diverse user engagement, and the realisation that audiences will actually watch content not made on their doorsteps in languages other than their mother tongue. In all, a lovely moment for the content industry despite a difficult funding environment and broken production models, particularly in Southeast Asia.
Asia's big content spenders
India and Korea topped Asia's list of content big spenders in the year to end December 2017, driving the largest investment increases in seven major markets, according to Media Partners Asia's (MPA) latest content study, Asia Video Content Dynamics 2018.

Previous issues: