PUBLICATIONS
The ContentAsia magazine
The latest issue of our flagship print title.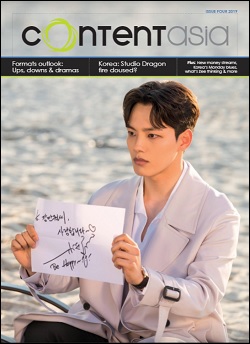 Issue Four 2019 includes:
Streaming wars
Netflix retains its market-leading position. But the global streamer's lead is being chipped away in most markets, says data science company Parrot Analytics. We highlight what's in demand in China and Japan.

Search parties
It might have taken a while, but programmers in Asia Pacific are starting to shop for shows – or at the very least do their research – online. The first insights into buyers' search patterns show factual in top spot by a long way, followed in equal parts by drama and factual entertainment, although even combined the two genres don't equal interest in factual.

Dragon training
Some of Studio Dragon's Q2 numbers are stellar. But its stock price continues to tank. The story the Korean production powerhouse, once riding high on Netflix commissions, is telling the market now is all about expansion, diversification, spreading its love across streaming platforms – including Disney+ and YouTube – and assembling the pieces to drive the transformation into a global studio.
PLUS MORE...

Previous issues: