PUBLICATIONS
The ContentAsia magazine
The latest issue of our flagship print title.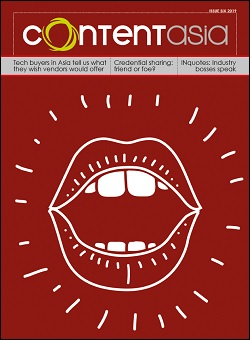 Issue Six 2019 includes:
Fair share
Casual credential sharing is often seen as a "grey" area, "soft fraud" if there is such a thing. Is it piracy? Or marketing? Or both? In the battle to harness every last subscription dollar, the label seems less important than the opportunity it presents.
Sharp objects
8K opens up a wonderland of definition, extraordinary detail that takes directors along unexplored creative paths. Japanese director Kazutaka Watanabe talks about his experience at the helm of NHK's first 8K drama, An Artist of the Floating World.
Talking tech
Platforms & programmers talk about their tech pain points, wish lists and the things that have made the biggest difference. Here's what they said…
PLUS MORE...

Previous issues: