Feature
DRAMA ADAPTATIONS: A whole new Asia story
Korean versions of NBCUniversal's "Suits" and BBC's "Mistresses" fly the flag for scripted format production in Asia this month. But that's not the only reason Korea's content industry is fluttering in a happier wind these days.
--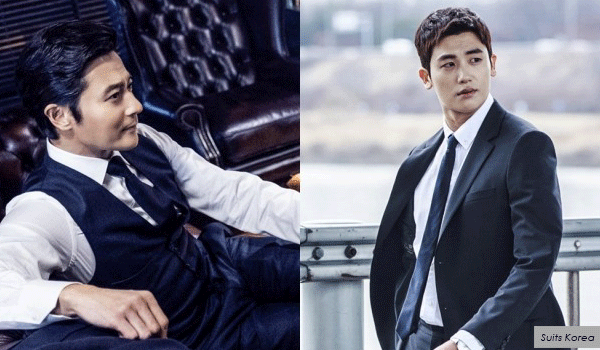 When Jang Dong-gun and Park Hyung-sik appear for the first time on 25 April as NBCUniversal's favourite lawyers Harvey and Mike, scripted formats in Asia take another step forward in a long-running drama that has been slow but is picking up.
The first non-U.S. version of legal drama Suits (NBCUniversal's first scripted format sale in Asia) airs on public broadcast network KBS2 on Wednesdays and Thursdays in the prime time 10pm drama slot, with Park (Strong Woman Do Bong Soon) as Go Yeon-woo, the Korean version of college dropout Mike Ross. Jang, in his return to TV after about six years, plays Choi Kyung-seo, the Harvey Specter character. Suits Korea is directed by Kim Jun-woo-II (Healer, Mystery Queen) and executive produced by Sebastian Lee and David Kim of EnterMedia Contents. Suits debuts on Korean screens three years after the original 2015 format acquisition announcement, when NBCUniversal talked about broadening activities in Asia.
It's one of a growing slate of scripted formats in the region. In the first quarter of this year, rights to at least 37 scripted titles were on Asia's books, either in-waiting or newly acquired. Of these, 16 (43%) were for China, where regulations have shifted and the majority of format rights on the books are likely to be allowed to expire quietly without a single shot being filmed. Or they will be reworked, emerging in other guises to duck current restrictions.
Of the 16 titles on our China list, at least 50% are hanging around more or less lifelessly. The other eight have either just been signed, have already aired, or are in production already with regulation-friendly terms; these include Endemol Shine Group's Humans China, three-part drama Chosen China (Huaso/Sony Pictures Television/iQiyi), The Little Nyonya and The Awakening (Perfect World Pictures), The Great Art Robbery China (all3media), and three titles from Japan's Fuji TV that have been around since last year but are definitely a go. Fuji TV's China titles include The Confidence Man, one of a trio of adaptations being crafted simultaneously in a first-of-its-kind development for China, Korea and Hong Kong.
Our published Q1 list doesn't include two new drama series from Alibaba-owned Youku – Women in Beijing, which premiered on 9 April, and Women in Shanghai, which will stream later this year. (Ed's note: Both came in after the list had close) Adapted from Japanese IP, both titles are part of Youku's bid to create series that work in China... and everywhere else.
"When people think about Chinese drama, they often think about period costume dramas or people with kung-fu flying on top of trees. However, our main audience in the market these days are young adult females who live modern urban city lives. They want to see stories that they can resonate with, and lead characters that they can look up to," says Julia Song, Youku Tudou's head of scripted international acquisitions and business development.
"We've seen an increasing phenomenon of leading female characters lately in international media/drama such as last year's The Marvelous Mrs. Maisel, Lady Bird, Three Billboards Outside Ebbing, Missouri, or in Asia specially India, hit movies like Dangal and Secret Superstar; they all have a strong female character who is both motivational and inspirational. This was the exact reason why we chose the Japanese drama Tokyo Joshi Zukan (Tokyo Women's Campaign) as a base for our local adaptation," Song says.
Tokyo Joshi Zukan (2016) is the story of Aya, a woman who arrives in Tokyo in her twenties, then grows and changes along with her career and romances against the backdrop of a glittering city. The titles were licensed from Watanabe Productions and Tokyo Calendar Inc and redeveloped with Beijing and Shanghai as the backgrounds. "The stories are very local and Chinese. The two main characters are the epitome of how girls are living/working today in modern cities like Shanghai and Beijing," Song says.
She adds that the aim is to show how modern women live in metropolitan cities in the world today; "These are professional women, who do not rely on men; they are independent individuals with free spirits and minds, intelligent and witty, and in full control of their futures and everything around them".
While the dramatically different cultures in Beijing and Shanghai form the backdrop to the two series, on the macro level the topic is global and will continue to be portrayed across media around the world, from Sex and the City to The Devil Wears Prada, Song says. "These two dramas have no cultural boundaries, they can be understood in every part of the world."
Others are pushing boundaries of their own. The premiere of Chosen on iQiyi in January was a triumph for Sony and its China JV, with a simultaneous debut in Taiwan and a global distribution deal with Netflix set for later this year. The Mandarin-language trilogy was adapted from Sony's Crackle series in the U.S. The acquisition was announced in December 2016 and the series started shooting in Australia in April last year.
iQiyi describes the co-pro as "another milestone". Yang Xianghua, iQiyi's senior vice president, says the company hopes its "new business model and innovation in distribution will lead to more cooperation with other global partners".
For now though, given shifting regulations, censorship requirements and uncertainly about many of the titles in China, we're calling Korea the most vibrant scripted formats market in Asia in the first quarter of this year, with nine titles on air, signed or in waiting from January to March.
Three of the nine are new deals by BBC Worldwide, which announced in February that Munhwa Broadcasting Corporation (MBC) was remaking drama Luther, and CJ E&M's Studio Dragon had acquired remake rights to Mistresses and retro detective series, Life on Mars, which is set in Seoul in 1987 during the first-ever democratic presidential election. Mistresses, starring Han Ga-in (Moon Embracing the Sun) in her return to television after a six-year break, premieres on 28 April this year, replacing Children of a Lesser God on CJ E&M's OCN channel on Saturdays/Sundays at 10.20pm. Luther Korea premieres in late October 2018.
As Korean producers feel their way into a future free (like it or not) of its massive dependence on China and with no indication when or if they will ever be welcome on the mainland again, new relationships are being formed. These include the first co-production between Japan's Fuji TV and Korea's iHQ on the Korean adaptation of Fuji TV drama, Rich Man, Poor Woman. The 16-episode series started shooting in Seoul in February, with a planned April premiere on Korean cable channel Dramax. Rich Man, Poor Woman stars Suho (EXO, The Universe's Star, Prime Minister and I) and Ha Yeon-soo (Drinking Solo, Legendary Witches) and is directed by Min Do-sik (Jungle Fish 2, Billy Jean Look At Me). The original Japanese series ran from July to September 2012 in Fuji TV's Monday 9pm prime-time drama slot.
Japan is also on a scripted roll, driven by Nippon TV's high-profile Mother, and also by format innovation and outreach as well as new relationships with broadcasters and producers in Korea.
In the first of its kind for Japanese drama, Ryota Kosawa's script for Fuji TV comedy series, The Confidence Man, has been sold to Korea, Hong Kong and China before the Japanese version even aired. All three versions are in production. The Japanese series premiered on 9 April.
The current Japan/Korea love works both ways. A Japanese adaptation of Korean drama, Signal, begins airing on Fuji TV in April.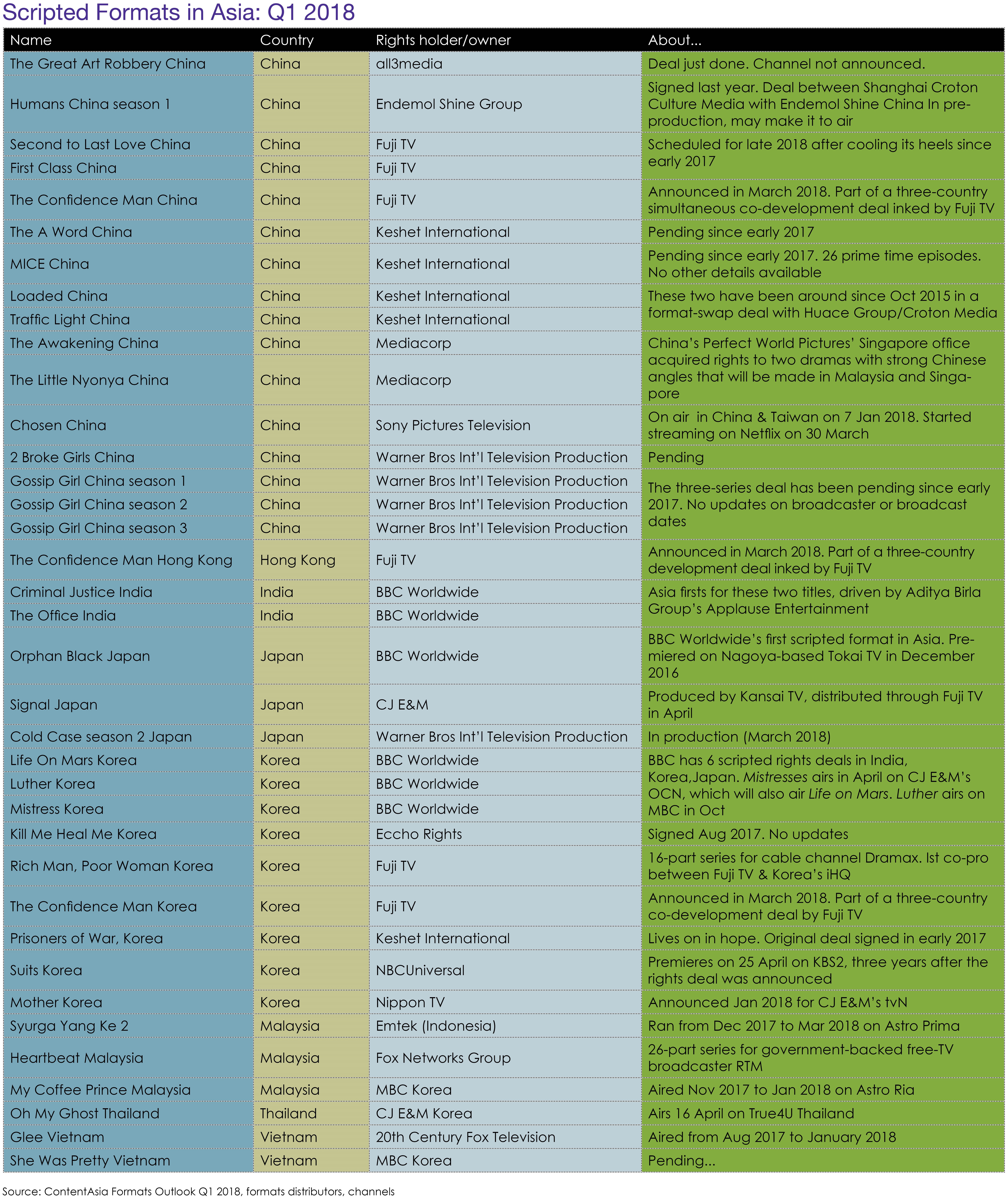 Zooming out from scripted, Vietnam continues to lead Asia's overall formats market by number of titles, although Thailand is catching up.
Thailand is seven titles behind Vietnam for the market with the largest number of formats on air, in production or commissioned during Q1 2018 for broadcast in 2018/9. Vietnam had 46 titles (21%) and Thailand had 40 titles (19%). China was third, with 27 titles (12%) followed by Cambodia with 20 titles (9%).
According to ContentAsia's latest Formats Outlook, the top three markets – Vietnam, Thailand and China – make up 53% (113) of the total 215 titles.
Although early indications in the run-up to this year's MIP TV were that format expansion this year had fallen behind last year's, final figures show a 4% increase to 216 for the first quarter from last year's 208.
The biggest gains by volume were in Thailand, which was up by 10, and Myanmar, which added seven titles during the quarter.
New titles in Thailand include Talpa's Dance Dance Dance for Thailand's TV Thunder for and Human Knowledge Thailand for PPTV. The new deals build on Talpa's growing presence in Thailand, including shows such as 5 Gold Rings and The Next Boy/Girl Band, for which auditions were held on 31 March/1 April.
The biggest overall losers on our list for the first quarter were Mongolia, which shaved eight titles off its roster, and Korea, which was down six overall from last year.
In all, nine markets in Asia were up, eight were down, and one (Sri Lanka) was level with a single title (Sri Lanka's Got Talent). Singapore and Hong Kong both picked themselves up off the floor, going from zero to one (Fuji TV's The Confidence Man Hong Kong) and two (MasterChef Singapore on Mediacorp's Channel 5 and all3media's Hit It on Mediacorp's Suria channel).
The market that dropped off the formats map was Pakistan, which slid to zero after picking up Endemol Shine's Big Brother Pakistan last year.
The genres with the most traction continues to be game shows, with 23.6% of the total. Of the 51 game shows on our Q1 2018 list, 17 are in Vietnam, making it the most enthusiastic game show market in the region.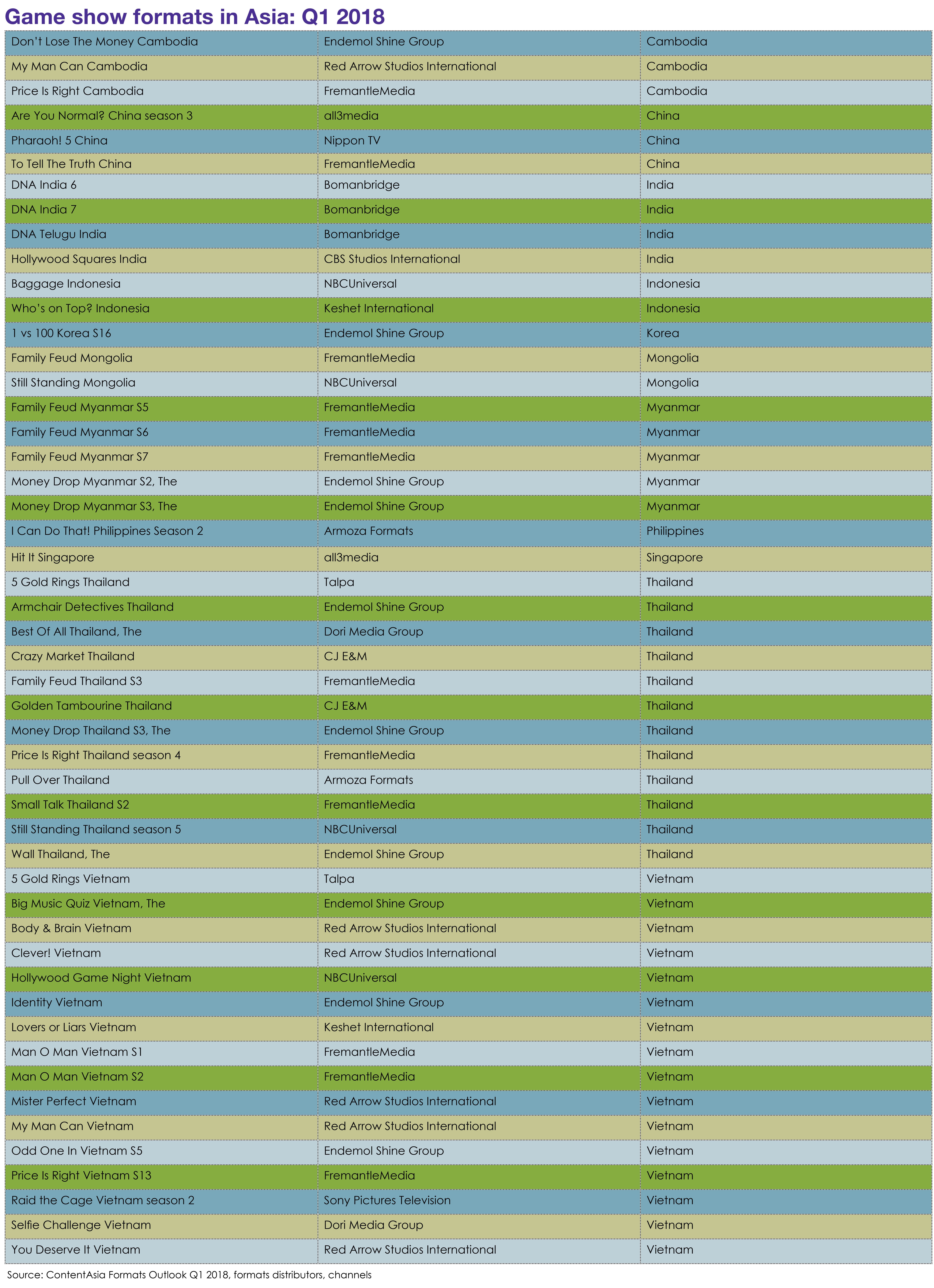 Second is Thailand with 12 titles. Korea's CJ E&M is on a game-show roll in Thailand with Golden Tambourine premiering on Channel 7 in February, Crazy Market premiering in March and Grandpas Over Flowers, Show Me The Money and Oh My Ghost on April schedules. Thailand has been receptive to a wide range of formats from neighbouring Asian markets, including Japan, where TV Asahi's 31 Legged Race is in its 13th season on MCOT's Channel 9.
Southeast Asia has by far the biggest appetite for game shows. Of the total 51, 41 are in Southeast Asia, where the average spend on a game show series is approx US$500,000.
China's position at number three, with 27 titles, belies turmoil on the ground for foreign rights holders forced to abandon sales in favour of co-development. Perhaps ironically, for all its limits on outside formats inside China, the country clearly has no shortage of ambition in flogging its formats to global broadcasters.
At this year's MIPTV/MIP Formats in Cannes in April, nine Chinese domestic content creators, supported by the uber-powerful State Administration of Radio and Television, flexed their creative and cultural muscle under the banner of "Wisdom in China – The Land of New Formats". The tagline included "time to start to create a future all together". Bold pitches to the international community ran from The Nation's Greatest Treasures (combo factual, variety, entertainment, celebs paired with national treasures, viewers vote) to Kung Fu Kids (reality, 24 7-13 year olds are trained by masters and compete for the ultimate title).
China's high-profile outreach in Cannes on the Saturday evening was followed the very next morning by an equally high-profile hammering from Korea's CJ E&M, which publicly accused online platform iQiyi of copying talent show format, Produce 101. CJ E&M backed up the accusation with proof from a new formats analysis service developed by rights protection agency Frapa. In a community long frustrated by lack of protection for original IP, iQiyi were labelled the bad guys. Will this change in tactics, this shift to public shaming, work? The jury is out, but many point out that keeping quiet didn't work either, so what's the harm trying?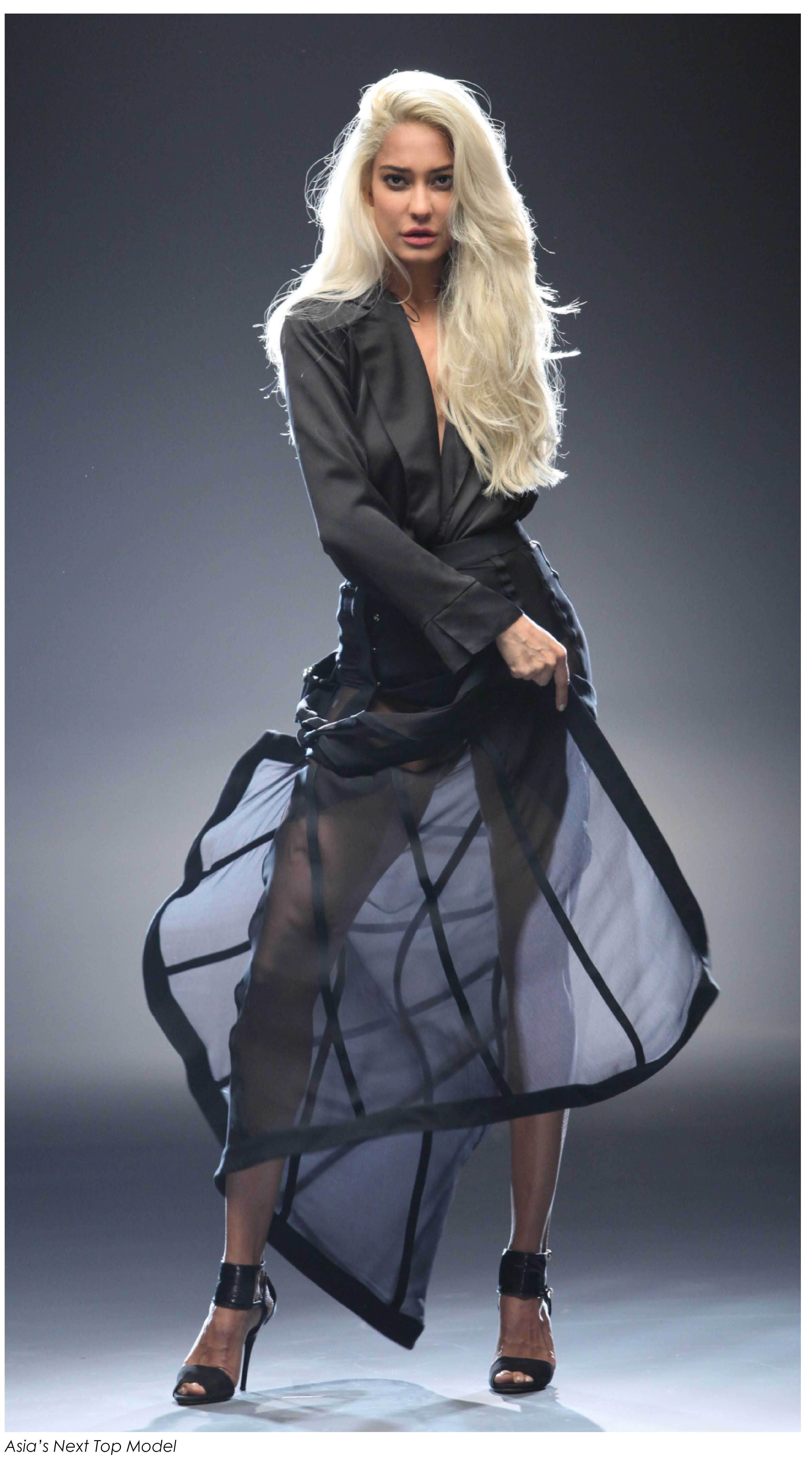 And then there are big-brand regional formats, a space which has proved to be less lively than formats companies originally hoped it would be, but is definitely not out for the count. Three of the titles on the regional radar this year are a third season of Asia's Got Talent for Sony Pictures Television Networks Asia's AXN channel, and possibly The Amazing Race Asia season 6, also for AXN. FOX Networks Group (FNG) has commissioned Asia's Next Top Model season six, which is scheduled to air in autumn this year. And that's about it. Will MasterChef Asia return? Unlikely. The Voice? Probably not. But the fat lady may not have sung...
​
Published in Issue Two of ContentAsia's inprint+online 2018 (20 April 2018)