Feature
Planet of the apps
APRIL 2019: iQiyi, QQLive and Youku top China's list of video apps, with about 1.6 billion combined monthly unique viewers. But video trails instant messaging, where Tencent's MM and WeChat reign.
iQiyi continued to drive online video apps usage in China in February 2019, with almost 600 million monthly unique visitors (UVs), new data released by iResearch Consulting Group shows.
The latest Top 500 Apps in China by UVs report says iQiyi had 597 million UVs during February this year – a 3.3% increase from the 578 million UVs recorded in January.
This gives iQiyi the highest number of monthly UVs of eight other online video apps on the list of 500 in both months.
In February, iQiyi ranked 4th of all 500 apps included in the report.
First and second spots were held by Tencent's instant messaging apps: Tencent MM/Wechat (with 1.09 billion UVs) and QQLive (with 702 million UVs).
Video app QQLive, also owned by the Hong Kong-listed Tencent, had more than 546 million UVs in February (overall 8th place) and 543 million UVs in January (overall 8th place as well).
iQiyi and QQLive are the only online video apps to make the top 10 list on iResearch's charts in February.
Competitor app Youku, a streaming service owned by the Alibaba Group since 2015, had 404 million UVs in February, giving it 12th place overall and maintaining the spot achieved in January with 391 million UVs.
The six other online video apps listed among the 500 in February were HunanTV (41st, 157 million UVs), Funshine Video (98th, 52 million UVs), Sohu Video (105th, 49 million UVs), PPTV (128th, 38 million UVs), Letv (131st, 36 million UVs) and BTV (238th, 15 million UVs).
In a separate report on China's online video industry, iResearch posted a 32.6% year-on-year growth to RMB96.27 billion/US$14.35 billion in revenue in 2018 versus 2017's RMB72.59 billion/US$10.83 billion.
iResearch says growth drivers included quality upgrades.
"Online video platforms are actively improving their speech power in content. Many of them take top copyright content and high-quality self-made content as core of future development strategy," the report says.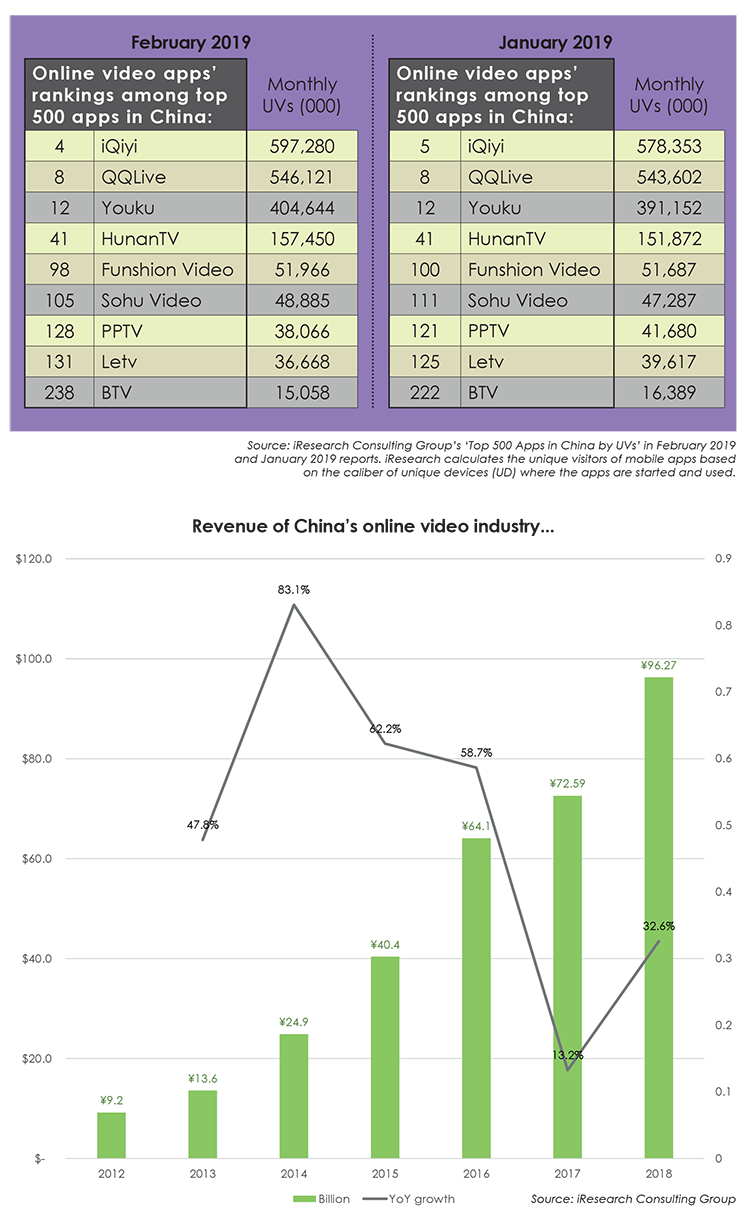 Published in April 2019 in ContentAsia print+online magazine for APOS 2019