India tops content investment growth, up 24% in 2018, Media Partners Asia says in new report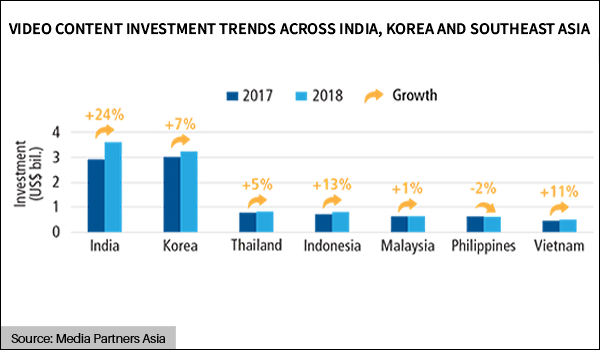 India leads video content investment in seven major Asian markets, rising 24% to total US$3.6 billion in 2018 with increases spread across online video and television platforms, Media Partners Asia's (MPA) latest research report, Asia Video Content Dynamics, shows. The seven markets are India, Korea, Indonesia, Malaysia, the Philippines, Thailand and Vietnam. India's online video budgets alone topped US$500 million in 2018, propelled by Amazon, Netflix and local platforms led by the Disney-owned Star India/Hotstar. Content spend in Indonesia was up 12.6% – the second highest growth after India – bringing budgets close to US$800 million. The third market in the region with double digit growth is Vietnam, where video content investment was up 10.6% to reach almost US$500 million. This was driven primarily by pay-TV platforms' sports rights acquisitions. With growth of 7.2% in 2018, Korea's content budgets last year were just shy of India's at US$3.2 billion. Growth in Korea was driven by film production and pay-TV content. Thailand came in at 5.3% growth, with video content spend passing US$800 million in 2018, boosted mainly by free-to-air TV. MPA described Thailand's online video environment as "underweight". Video content spend in Malaysia inched up 0.7% to US$630 million, with TV reductions offset by growth in film and online video. Pay-TV accounts for 75% of video content spend in Malaysia, led by Astro's investment in local content and sports rights. MPA has the Philippines' content investment down by 2.2% to US$607 million – the only market to see a reduction in overall video content budgets. Average growth across the seven markets was up 12%, an increase from 8% growth in 2017.

The real challenges…
Investment in video content in Asia is up, but real content challenges exist for platforms across the board, MPA says. Online advertising is eroding free-TV revenues, while piracy and subscription-based online video services are denting pay-TV subscriber bases. "These trends impact the ability of broadcasters to invest," MPA says, suggesting a series of collective and individual initiatives. These include a shift away from the dominance of in-house production and the creation of a stronger independent production sector; replicating Korea's AVOD consortium-based Pooq model in other parts of the region, including Thailand; and pushing for regulatory adjustments that will pave the way for increased foreign investment in the video industry.