"Passion will drive us to another level"; iQiyi Thailand boss talks about new unscripted series, "The Hidden Character"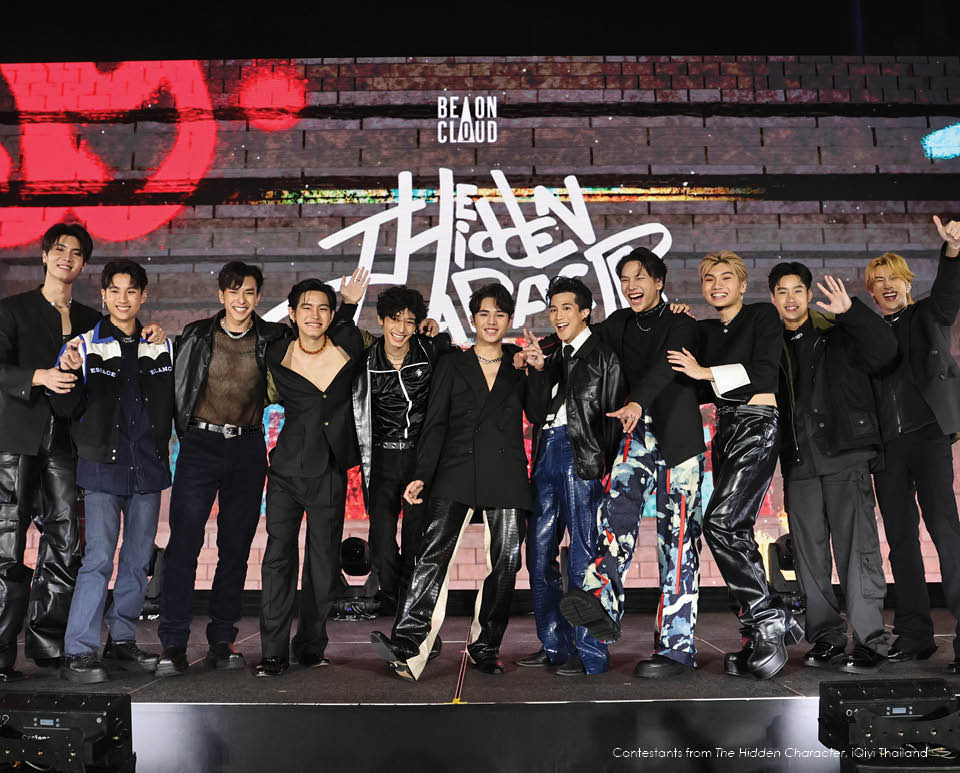 Chinese-owned regional streamer, iQiyi, is milking every advantage in Thailand, with calculated bets on high-visibility titles and leveraging star power and production relationships across properties.

For instance, host/mentor of iQiyi's new original – unscripted/reality show "The Hidden Character" or "THC" – is Phakphum Romsaithong (Mile), who stars as Kinn in iQiyi's blockbuster 2022 original drama series, "KinnPorche: The Series La Forte". 

The second Thai original also leverages iQiyi's production relationships and experience in Thailand so far. Both "KinnPorsche" and "The Hidden Character" are produced by Thai production house, Be On Cloud.

iQiyi's country director for Thailand Poppy Tongrob, is not stopping there. A drama TV series spin-off of "The Hidden Character" is in the works, using winners of the reality show. Details have not yet been released.

"THC" premiered in Thailand on 22 April on both free-TV channel GMM's One31 and on iQiyi's streaming platform globally. New episodes drop on Saturdays at 9.30pm local time on One31 and an hour later on iQiyi globally.

The reality show involves 11 contestants between 16 and 22 years old living under the same roof and engaging in a series of talent challenges. 

"THC" emerged from the search to find unique characters with strong staying power in the entertainment business, producer and Be On Cloud CEO, Pond Krisda Witthayakhajorndet, said during a showcase in Bangkok in the run up to the premiere. "THC" is his first reality project. 

Billing the series as a "structured, reality show", he said "the main idea is to have idols, enough idols, and people are looking for something real, something natural... in order to stay in showbiz you have to have a unique character, that's how the project began".

Witthayakhajorndet said his life and career perspective changed dramatically following the success of "KinnPorsche".

"Before KinnPorsche, I always thought that I knew myself well enough but a year after ["KinnPorsche's" release], I love myself more, and not only that, me, my artists, my team, we believe in ourselves more. We've grown together, created history together, and now we belie...
Chinese-owned regional streamer, iQiyi, is milking every advantage in Thailand, with calculated bets on high-visibility titles and leveraging star power and production relationships across properties.

For instance, host/mentor of iQiyi's new original – unscripted/reality show "The Hidden Character" or "THC" – is Phakphum Romsaithong (Mile), who stars as Kinn in iQiyi's blockbuster 2022 original drama series, "KinnPorche: The Series La Forte". 

The second Thai original also leverages iQiyi's production relationships and experience in Thailand so far. Both "KinnPorsche" and "The Hidden Character" are produced by Thai production house, Be On Cloud.

iQiyi's country director for Thailand Poppy Tongrob, is not stopping there. A drama TV series spin-off of "The Hidden Character" is in the works, using winners of the reality show. Details have not yet been released.

"THC" premiered in Thailand on 22 April on both free-TV channel GMM's One31 and on iQiyi's streaming platform globally. New episodes drop on Saturdays at 9.30pm local time on One31 and an hour later on iQiyi globally.

The reality show involves 11 contestants between 16 and 22 years old living under the same roof and engaging in a series of talent challenges. 

"THC" emerged from the search to find unique characters with strong staying power in the entertainment business, producer and Be On Cloud CEO, Pond Krisda Witthayakhajorndet, said during a showcase in Bangkok in the run up to the premiere. "THC" is his first reality project. 

Billing the series as a "structured, reality show", he said "the main idea is to have idols, enough idols, and people are looking for something real, something natural... in order to stay in showbiz you have to have a unique character, that's how the project began".

Witthayakhajorndet said his life and career perspective changed dramatically following the success of "KinnPorsche".

"Before KinnPorsche, I always thought that I knew myself well enough but a year after ["KinnPorsche's" release], I love myself more, and not only that, me, my artists, my team, we believe in ourselves more. We've grown together, created history together, and now we believe we can create a new series of the same power as KinnPorsche with THC," he said, identifying "sincerity" as the most important quality for a producer. 

"If we only seek monetary gain, we cannot make good content. There's so much content out there one can watch, on so many platforms but with sincerity, it touches the heart and captures viewers' emotion," he said.

"THC", released six months after Tongrob's promotion from Thailand's senior content director to country director, increases viewers/fan engagement, allowing them to vote for their favourite people for the roles in the drama spin-off. 

"THC serves as a challenge for us to be innovative, flexible and promote new ideas," Tongrob said.

Tongrob gave equal weight to data and passion. "As an online platform, where data means a lot to us, we also believe that passion of the creators is equally important. This passion will drive us to another level," he said. 

The production budget for "THC" has not been disclosed.

iQiyi's two Thai originals run alongside a slate of Mandarin international originals from the platform's Chinese mothership. These include new supernatural romcom, "Oh No! Here Comes Trouble", which premiered on 15 April during Thailand's Songkran water festival.

Directed by Lin Kuan Hui ("Secrets in the Hot Spring"), "Oh No! Here Comes Trouble" stars Taiwan's Tseng Jinghua ("Danger Zone") and Vivian Sung ("Our Times") along with Thai actor "Nonkul" Chanon Santinatornkul ("Bad Genius") in his first Chinese-speaking role. "Oh No! Here Comes Trouble" tells the story of delinquent Pu Yiyong (Tseng) who gains superpowers after an accident, and ends up forming an obsession-fighting squad.

Published in ContentAsia's 2-14 May 2023 eNewsletter