700 exhibitors head for HK FILMART; record-breaking Mainland Chinese presence at four-day March event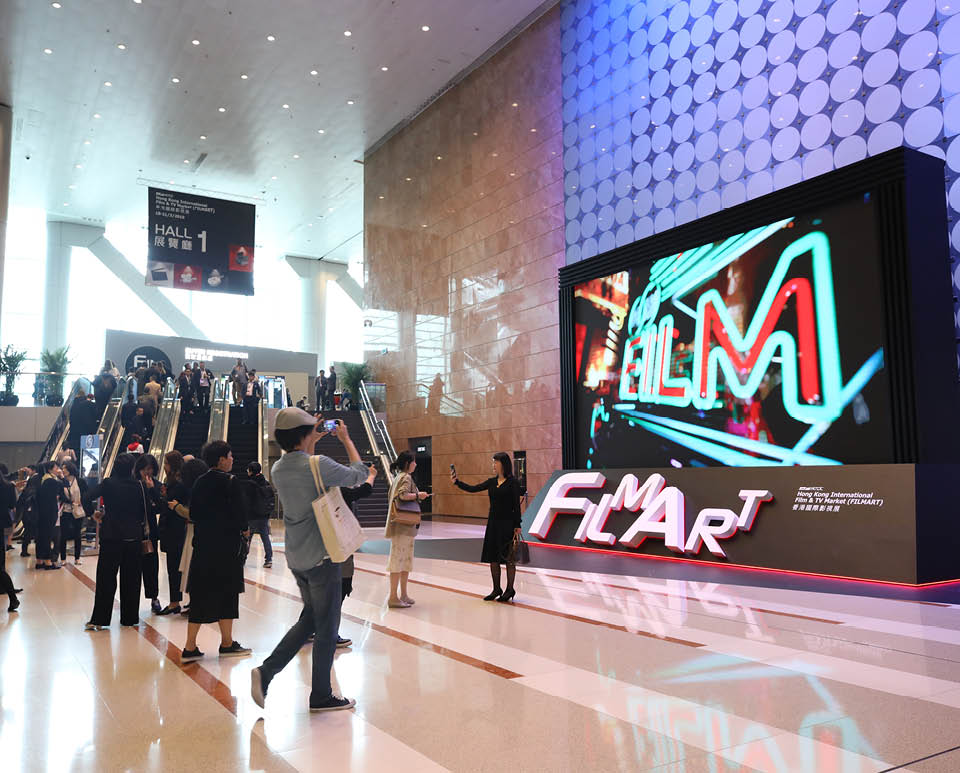 Hong Kong FILMART opens its doors on Monday (13 March) with more than 20 sessions of EntertainmentPulse seminars and special events, along with upwards of 30 screenings of international film titles.

EntertainmentPulse explores a range of cross-media trends – including the future of Web3 entertainment, dating and romance reality shows, Chinese animation as soft power, the potential of Asian content and the latest trends from Chinese producers.

This year's headline speakers on opening day include Jiang De Fu, COO of Bona Film Group, who will be speaking about the development and future of Chinese films; and Hou Hong Liang, President/Producer of China's TV production powerhouse, Daylight Entertainment, who will delve into the secrets of creating a hit series and will elaborate on the importance of project planning as well as content creation. 

In addition to EntertainmentPulse, this year's FILMART is hosting a series of exhibitor events over the four days to showcase the latest film, TV and animation content. 

FILMART will continue to have a strong Asian presence in 2023. This includes a record-breaking number of mainland Chinese exhibitors, FILMART organiser, the Hong Kong Trade Development Council (HKTDC), says. 

Participating Mainland provinces include Beijing, Fujian, Guangdong, Hunan, Jiangsu, Shaanxi, Shandong, Shanghai and more. For the first time, major streaming platforms from Mainland China – iQIYI, Tencent and Youku – will be present with individual booths.

The strong Mainland delegation is part of close to 700 exhibitors from over 25 countries and regions expected to be in Hong Kong for the four-day market.

Over 20 international pavilions from multiple countries and regions will be staged, including from Mainland China, Japan, South Korea, Taiwan, Thailand, Italy, the U.S. and Europe.

Approximately 5,000 visitors from more than 50 countries and regions are expected to attend FILMART to source new programmes, establish business connections, and attend various events.

Leading Chinese costume/historical drama series at this year's FILMART include "Nirvana in Fire 3" from Daylight Entertainment, "Story of Kunning Palace" fr...
Hong Kong FILMART opens its doors on Monday (13 March) with more than 20 sessions of EntertainmentPulse seminars and special events, along with upwards of 30 screenings of international film titles.

EntertainmentPulse explores a range of cross-media trends – including the future of Web3 entertainment, dating and romance reality shows, Chinese animation as soft power, the potential of Asian content and the latest trends from Chinese producers.

This year's headline speakers on opening day include Jiang De Fu, COO of Bona Film Group, who will be speaking about the development and future of Chinese films; and Hou Hong Liang, President/Producer of China's TV production powerhouse, Daylight Entertainment, who will delve into the secrets of creating a hit series and will elaborate on the importance of project planning as well as content creation. 

In addition to EntertainmentPulse, this year's FILMART is hosting a series of exhibitor events over the four days to showcase the latest film, TV and animation content. 

FILMART will continue to have a strong Asian presence in 2023. This includes a record-breaking number of mainland Chinese exhibitors, FILMART organiser, the Hong Kong Trade Development Council (HKTDC), says. 

Participating Mainland provinces include Beijing, Fujian, Guangdong, Hunan, Jiangsu, Shaanxi, Shandong, Shanghai and more. For the first time, major streaming platforms from Mainland China – iQIYI, Tencent and Youku – will be present with individual booths.

The strong Mainland delegation is part of close to 700 exhibitors from over 25 countries and regions expected to be in Hong Kong for the four-day market.

Over 20 international pavilions from multiple countries and regions will be staged, including from Mainland China, Japan, South Korea, Taiwan, Thailand, Italy, the U.S. and Europe.

Approximately 5,000 visitors from more than 50 countries and regions are expected to attend FILMART to source new programmes, establish business connections, and attend various events.

Leading Chinese costume/historical drama series at this year's FILMART include "Nirvana in Fire 3" from Daylight Entertainment, "Story of Kunning Palace" from iQIYI, and "Legend of Anle" from Youku. 

Set for a 2024 release, "Nirvana in Fire 3" is helmed by directors Kong Sheng ("Romance of Our Parents"), Sun Mo Long ("Reset") and Liu Hong Yuan ("Surgeons"). The series centres on an intelligent strategist who seeks justice for the common people. The cast includes Leo Wu, Zhang Xin Cheng and Zhang Wan Yi.

Directed by Zhu Ruibin ("Ashes of Love") and Francis Nam ("Nothing But You Add"), "Story of Kunning Palace" stars Bai Lu as Jiang Xue Ning, a fallen queen who aspired to power and authority. A rebirth gives her a second chance to avoid the palace and change her fate but a turn of events leads her back to the palace and she falls in love with Xie Wei (played by Zhang Ling He), whom she hated the most. The series, adapted from Shi Jing's novel "A Lady's Tranquility", is slated to release in April 2023.

In Youku's upcoming series "Legend of Anle", Dilraba Dilmurat plays dual roles Di Zi Yuan/Ren An Le, who seeks revenge 10 years after her family is unjustly accused of treason. The series, adapted from the novel "The Emperor's Book" by Xing Ling, is directed by Gary Sing ("Word of Honor"), Jones Ma ("The World of Fantasy") and Jason So ("Rock Sugar Summer").

China Huace Film & TV is leading the modern day Chinese drama showcase with "Meet Yourself", a romantic series directed by Ding Zi Guang ("Go Ahead") and starring Liu Yifei and Li Xian. The series, about a mid-30s white-collar employee who moves to the village in Dali after her best friend passes away from cancer, premiered on Hunan TV on 3 January this year.

Among Thailand's top series at this year's FILMART is romcom/suspense drama, "My Lucky Star", from distributor Artop Media.
 
The series, a remake of a 2007 Taiwanese idol drama, is a love story between a con-artist/jewelry designer and a racer/heir to a jewelry empire. The series stars Bifern Anchasa Mongkhonsamai and Film Thanapat Kavela.

▶ Sponsored content brought to you by Hong Kong Trade Development Council (HKTDC) / FILMART. Published in ContentAsia's 6-19 March 2023 eNewsletter