Korea's ACE Fair countdown as global Hallyu heats up; Gwangju prepares to welcome 50,000+ participants at four-day in-person event in Sept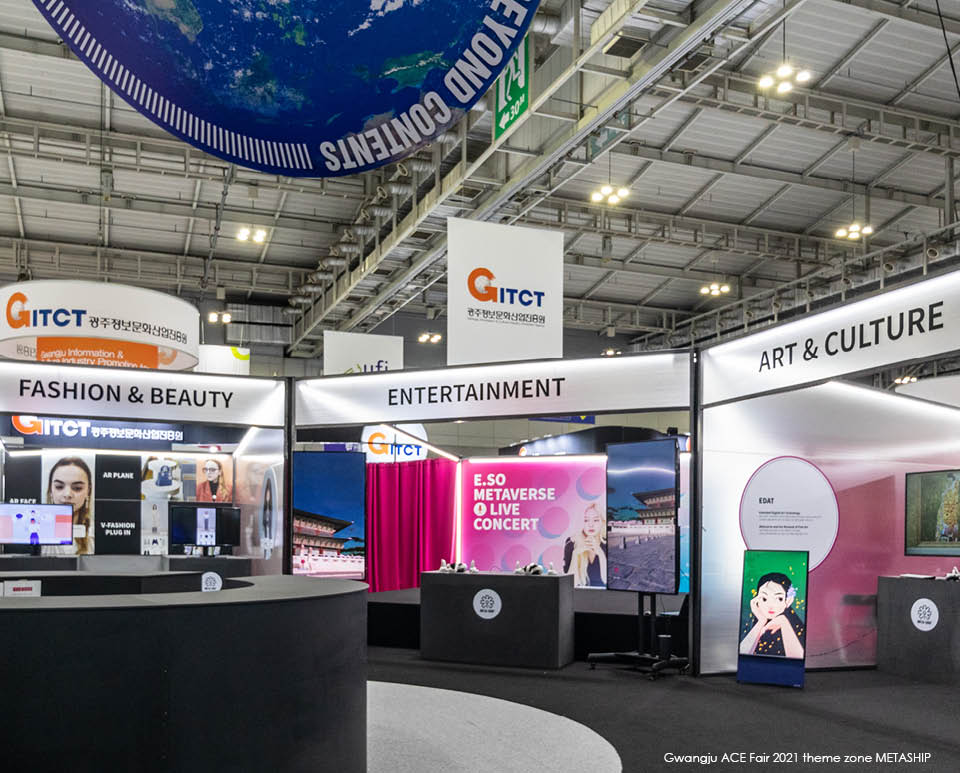 This year's 17th annual Asia Content Entertainment (ACE) Fair opens in Gwangju on 22 September, riding Korea's most vibrant content environment ever, with unprecedented international attention and rapidly rising production budgets that allow local creators to compete on global platforms.

Plus there's the jostling among local and international players for blockbuster titles, which is driving sharp increases in the value of Korean rights. 

Last year, sales of Korean content hit KRW61.2 trillion/US$49 billion, a massive rise from 2020's KRW19.4 trillion. Exports also soared, from US$49.4 billion in 2020 to US$52.7 billion in 2021, according to official statistics.

Hosted by Korea's Ministry of Culture, Sports and Tourism and Gwangju City, this year's four-day ACE Fair hybrid online/in-person event features a content rights market along with a focus on broadcast, OTT/streaming, animation and digital content, including metaverse/gaming/AI. 

The content component runs from Korean drama and webtoons to international titles.

The theme of this year's second annual Content Developers' Conference (CDC) is "Digital Transformation & Expansion of Content Value". This follows last year's inaugural CDC, which was themed "Metaverse: Beyond Content". 

The aim this year is "presenting Gwangju ACE Fair as a wholesome event, equipped with various events, seminars, and conferences for all the international TV/broadcast and animation players". 

New this year are Web Animation Festival (WAF 2022) and the Gwangju Story Festival. 

Highlighting the show's business partnership and showcase advantages, organisers say they are expecting 350 exhibitors, including top entertainment brands, including national broadcasters KBS, MBC, SBS and EBS, along with KT, SK Telecom and LG, among others.

The event will also host 200 buyers, including 80 acquisition executives from Korean platforms.

ACE Fair organisers this year are the Kimdaejung Convention Center, where the on-ground event will be held, GICON, KCTA, the Gwangju Institute of Design Promotion (GIDP) and KOTRA. 

Sponsors are the Ministry of Science and ICT, the Ministry of Trade, Industry and Energy, and the Korea C...
This year's 17th annual Asia Content Entertainment (ACE) Fair opens in Gwangju on 22 September, riding Korea's most vibrant content environment ever, with unprecedented international attention and rapidly rising production budgets that allow local creators to compete on global platforms.

Plus there's the jostling among local and international players for blockbuster titles, which is driving sharp increases in the value of Korean rights. 

Last year, sales of Korean content hit KRW61.2 trillion/US$49 billion, a massive rise from 2020's KRW19.4 trillion. Exports also soared, from US$49.4 billion in 2020 to US$52.7 billion in 2021, according to official statistics.

Hosted by Korea's Ministry of Culture, Sports and Tourism and Gwangju City, this year's four-day ACE Fair hybrid online/in-person event features a content rights market along with a focus on broadcast, OTT/streaming, animation and digital content, including metaverse/gaming/AI. 

The content component runs from Korean drama and webtoons to international titles.

The theme of this year's second annual Content Developers' Conference (CDC) is "Digital Transformation & Expansion of Content Value". This follows last year's inaugural CDC, which was themed "Metaverse: Beyond Content". 

The aim this year is "presenting Gwangju ACE Fair as a wholesome event, equipped with various events, seminars, and conferences for all the international TV/broadcast and animation players". 

New this year are Web Animation Festival (WAF 2022) and the Gwangju Story Festival. 

Highlighting the show's business partnership and showcase advantages, organisers say they are expecting 350 exhibitors, including top entertainment brands, including national broadcasters KBS, MBC, SBS and EBS, along with KT, SK Telecom and LG, among others.

The event will also host 200 buyers, including 80 acquisition executives from Korean platforms.

ACE Fair organisers this year are the Kimdaejung Convention Center, where the on-ground event will be held, GICON, KCTA, the Gwangju Institute of Design Promotion (GIDP) and KOTRA. 

Sponsors are the Ministry of Science and ICT, the Ministry of Trade, Industry and Energy, and the Korea Communications Commission. 

International brands involved this year include China's CCTV Animation, Tencent and Baidu, along with Facebook.

Last year's ACE Fair attracted 297,200 online visitors, and 22,760 people on the ground from 30 countries and regions, organisers say, adding that 62% of delegates said they attended to increase awareness of their brands. Almost 43% of delegates used the event to maintain their business relationships and 36% to find new business partners. More than 170 buyers and 350
exhibitors participated.

For more information, please visit our website: www.acefair.or.kr

Sponsored content brought to you by Gwangju ACE Fair. Published in ContentAsia 4-16 May 2022 eNewsletter