Reliance Jio holds broadband lead; India's total broadband subs hit 876.5 million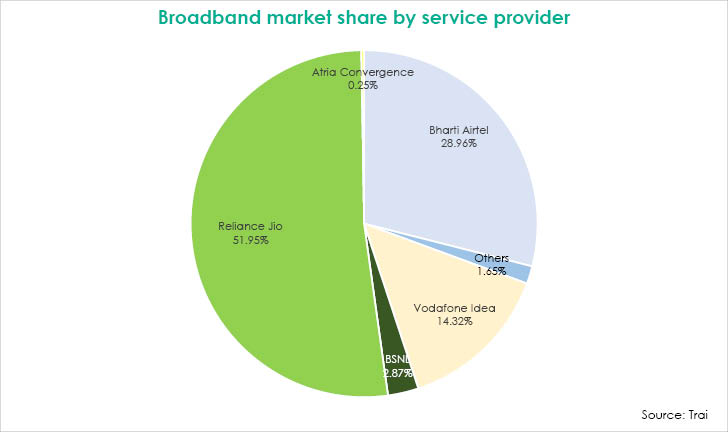 Reliance Jio controls a lion's share of India's total broadband subscribers, way ahead of second runner Bharti Airtel, according to the latest stats from government agency, the Telecom Regulatory Authority of India (Trai).

Updates released on 16 November show India's total broadband subs at just over 876.5 million – 840 million of these wireless.

The country had1148.4 mobile subs of the 1179.2 million total phone subscribers. 

The top five wireless/wired service providers – led by Jio Infocomm with 455.33 million broadband subs or 51.95% of the market – controlled 98.35% market share. 

Jio's lead at the end of August was marginally up from data released at the end of April this year, when the platform had a share of 51.93%.  

Bharti Airtel ran second at the end of August, with 253.86 million, trailed by Vodafone Idea with 125.55 million, BSNL with 25.12 million and Atria Convergence with 2.19 million.

Trai gathered the data from 1,087 operators in August 2023.

Total wireless subscribers increasedfrom 1,146.25 million at the end of July 2023, to 1,148.43 million at the end of August 2023, a growth rate of 0.19%.